Alan Goehring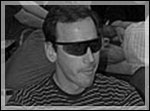 Alan Goehring caught the attention of the public when he came in third in the $3,000 No Limit Hold'Em event at the 1997 World Series of Poker (WSOP). The tournament featured such greats as Chris "Jesus" Ferguson, Kathy Liebert, Dan Harrington and Donnacha O'Dea. Goehring won $61,845 in the tournament.
Goehring finished 2nd in the $10,000 No Limit Hold-Em Main Event of the 1999 WSOP. He lost to Noel Furlong, but took home $768,625 for his efforts. This, coupled with several other 2nd place finishes, including the one in Bellagio's Inaugural No Limit Hold'em tournament, gave Goehring a reputation for being the player who "could not win the big one" - or being a "perennial bridesmaid," according to Card Player Magazine.
But this pattern was broken in 2003, when he bagged first place in the $25,000 World Poker Tour (WPT) No-Limit Hold'em Championship event of the Bellagio Five-Star World Poker Classic in Las Vegas. This televised event was Goehring's first major tournament win. He had gone up against a very talented young Russian player named Kirril Gerasimov, who had gone all-in with nothing, while Goehring flopped a set of Queens.
This was during season one of the prestigious WPT tournament. Goehring took home the $1,011,886 grand prize. The final table also included Phil Ivey, Doyle Brunson and Ted Forrest. But after this event, he seems to have gone back to making final tables. In the 2005 WPT €10,000 Grand Prix de Paris, he placed 5th and finished with $89,753. The winner turned out to be Roland De Wolfe.
Goehring was born on February 21, 1963, in Milwaukee, Wisconsin. He is a retired junk bond analyst and trader. He only started playing poker professionally at age 37. This good-natured player claims that he plays poker for fun, not money.
Howard "The Professor" Lederer, brother of Annie Duke and another well-respected poker player, has made some commentaries about Alan Goehring's plays in his official website. "I am looking forward to sitting across from Alan Goehring again soon," he said in an article. "I may not do any better, but I know I will be thoroughly entertained."
Though he rarely finishes first, Goehring's accomplishments in the circuit are nothing to scoff at. As of 2005, he has made over $2.5 million in tournament play, perfectly on par with the achievements of other star players. Goehring lists his hobbies as "stocks and bonds." He is currently residing in Henderson, Nevada.