Chris "Jesus" Ferguson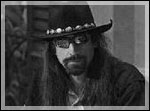 Chris "Jesus" Ferguson is one of the most influential and phenomenal figures in online and offline poker. A native of Los Angeles, California, Ferguson holds the prestigious title of Champion of the No Limit Holdem main event at the 2000 World Series of Poker (WSOP). He defeated another top competitor, TJ Cloutier, with an A9 hand. The win earned him $1.5M.

One glance at the man would show you how he earned his nickname. This LA native sports a distinctive look that makes spectators turn and stare, and draws crowds to his game table. For one thing, Chris "Jesus" Ferguson looks much like how Jesus is traditionally perceived indeed, with his beard and his long brown hair.





Perhaps the most essential part of his costume is the black cowboy hat he wears to every game. Ferguson says his costume makes his opponents underestimate him, which works to his advantage because poker, he believes, is a game of misinformation. Outside the world of poker, however, Jesus has a different "look." He loses the hat and looks studious. One would think he is more a professor than a cowboy or a poker player.

This would be no surprise considering Ferguson holds a PhD in computer science (artificial intelligence). His father is a professor of Statistics at UCLA while his mother holds a PhD in Topography. Within his family of scholars, Ferguson grew up with a strong background in gamesmanship. Some have said that his mathematical training and sharp analytical mind combine to produce his unique prowess at poker.

Ferguson's philosophy reflects his drive to be the best at the things he enjoys doing. He has said in an interview that his favorite place to play was the final table. He believes the ability to make it to the final table is what marks a champion. After making it to the final table six straight times in the WSOP, he failed to make it to the top three in a $2,000 pot-limit hold'em tournament. He placed fourth, but still he said in an interview that the experience was "disappointing."

Ferguson continues to set high standards for himself. Since poker isn't his primary means of making a living, he doesn't spend as much time with it as other pros. Instead, he works to make the most out of his limited time. He mostly plays tournaments, where he feels competition is the greatest. "I figure that the best way to learn to play better is to play against the top players," he once said. "I learn best by playing against the best." No longer as active in the circuit as he used to be, Chris "Jesus" Ferguson is enjoying a quiet life in Pacific Palisades, California.