Dan Harrington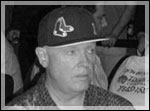 Dan Harrington has earned respect in the poker circuit for being a tremendously successful "tight" player. He also got the ironic nickname "Action Dan" from his conservative play. When Harrington makes a large bet, opponents who know him well will often be smart enough to fold. This straightforward style has earned him an excess of $4.4 million in tournament earnings as of 2005.
His rock solid play has earned him seating at the final tables at the 2003 and 2004 World Series of Poker (WSOP) events, where he placed 3rd and 4th respectively. But his successes here are still overshadowed by his big win at the main event of the 1995 WSOP. Dan Harrington currently has two bracelets to his name. He made his first final table of the World Poker Tour (WPT) in October 2005, and finished at 2nd place in the Doyle Brunson North American Championship.
Harrington was born in Boston, Massachusetts. He attended both undergraduate and law school at Suffolk university. As a student he started gambling for fun and entertainment. He was part of a Massachusetts Institute of Technology (MIT) team that was found to have cheated at roulette. He also traveled to nearby Harvard to play in poker games frequented by the likes of Paul Allen and Bill Gates. He was able to amass quite a few chess and backgammon championships.
During the 1980s he traveled to Vegas to play poker with the prestigious Mayfair Club, alongside other greats such as Howard Lederer, Erik Seidel and Steve Zolotow. His extensive gaming experience has made Harrington an authority and a sporting veteran. Both Doyle Brunson and Dan Harrington have expressed their thoughts on the effect of aging on gaming prowess. Harrington says that attending the 7-day tournaments have become immensely draining for him. Brunson has said that young players these days have more energy and stamina to compete.
Dan Harrington worked for a time as a bankruptcy lawyer, but eventually quit to devote more time to poker, real estate and the stock market. He has enjoyed much success in all these fields. He and Bill Robertie have authored two very popular books on poker, both by Two Plus Two Publishing: "Harrington on Hold'em Expert Strategy for No Limit Tournaments," volumes I and II. The notes at the end of the second volume indicate that a third is in the making. Harrington is currently living in Santa Monica, California.