Doyle Brunson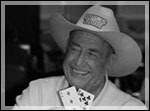 Doyle Brunson is not only one of the most well-known poker champions: his name is a by-word among true gaming enthusiasts. He came to be known as "Texas Dolly" because of a misreading of his name by the late Jimmy "The Greek" Snyder, a US sports commentator and Las Vegas bookie. He is the first player ever to win $1 million in a poker tournament. He has also won bracelets throughout his playing career.

Doyle Brunson was born in August 10, 1933 in Longworth Texas. He started off as a promising athlete, as a player in the All-State Texas Basketball Team, and was state champion in the mile run. He was drafted by the Minneapolis Lakers, and soon afterwards a knee injury ended his basketball days for good. Since then he has focused on education, and by gambling, he was able to pay for his school fees, until he got his master's degree in administrative education. But the startlingly low pay of a teacher disillusioned him, and Brunson set off to conquer the poker world instead, at first teaming up with other Texas players like Thomas Austin "Amarillo Slim" Preston and Johnny Moss.





Besides Johnny Chan, Doyle Brunson is the only poker player who can boast of two consecutive wins at the World Series of Poker (WSOP). His legendary wins came on 1976-77, at the No-Limits Hold'em event, where he started out with a Ten and a Two, a weak starting hand that was subsequently named after him. Another starting hand that earned the call name "Doyle Brunson" was the Ace and the Queen, because as Brunson has emphasized, he "NEVER plays that hand." Chan and Brunson also tie for 10 bracelets at the WSOP. Brunson earned his 10th bracelet less than a week after Chan won his own 10th on July, 2005.

Doyle Brunson has a few book titles to his name, one of them being considered the definitive guide to playing poker: "Super/System." The book explains Doyle's tactics for winning at poker, hence Doyle believes that writing the book cost him a lot of money. But a richer sequel to the book was published in 2004. Other big names in poker like Joey Hawthorne, Bobby Baldwin, David Sklansky, Chip Reese and Mike Caro contributed their own chapters to this sequel. Brunson also authored "According to Doyle", which was published in 1976, and was later known as "Poker Wisdom of a Champion".